"Call Me A Liar" #1:  Rapid Fat Loss (Warning!)
Understanding Metabolism.  It's not exactly what you think it is. 
If you want to lose weight fast, and I mean really fast then you NEED to read this!
Let this serve as a friendly warning to those seeking rapid weight loss.  Please before you decide which path you'll travel to get health, lose weight, speed up your metabolism or reach any other health and fitness goal take this information I'm about to present to you into consideration before moving forward. 
Everyone refers to weight loss as a means of getting healthy.  IT IS NOT!  Look, I'm not telling you you have to be happy with the fat that you've accrued over the years, I'm just saying you're placing blame in the wrong spot.  It's confusing because we have been told for decades that in order to be healthy we must maintain a certain body fat percentage or BMI (body mass index).  Even as a country we have declared war on obesity.  We listen to the evening news anchor reporting the new highs the our country is hitting as the sickest, fattest country in the world while displaying clips of crowds of fat Americans from the neck down walking down the sidewalks.  
You know the one's I'm talking about…
Now here's an interesting statistic.  The based on consumer reviews the US is on of the most health conscious countries in the world.  In 2009 over 75% of americans were more concerned about their health when purchasing foods compared to poles in 2007 and it's only been growing since.  We've also been battling Mexico for the #1 spot for the fattest country in the world.  So how does one of the most health conscious countries in the world maintain a status as one of the sickest, fattest countries in the world?  That answer, in my opinion, is pretty simple… WE'RE DOING IT WRONG! Guys, really… we're doing it wrong.  We've being targeting fat as the enemy for years and it's not.  Fat is a symptom of metabolic disfunction, like low energy, hair and skin problems, and constipation.  If we just focus on the fat, if we only focus on losing weight as the end-all way of measuring how healthy a person is we degrade the quality of our lives far more than you could ever expect.  Fat is the result of when your day to day bodily functions are being fueled improperly and therefore your metabolism has to literally rescue you from malnourishment and low blood-sugar levels.
What is metabolism?
Your body is a giant ball of energy.  How efficiently your body creates energy on a daily basis is what determines whether you're benefiting from a fast metabolism or suffering from a slow one.  When most people think of metabolism they think of calories in, calories out or displacement of water, etc.  And when these so-called "fitness professionals" discuss metabolism they do so by describing short and easy ways to boost your metabolism.  For example…
"Drink 20oz of ice cold water first thing in the morning and you'll boost your metabolism by blah-blah percentage for the next 24 hours!"
"Fasted exercise before eating breakfast can speed up your metabolism by over 30% each day"
"Drink green tea and lemon juice by the bucket!"
These methods
can
be effective in your efforts to lose weight, but here's the thing… they are also very effective methods of stressing your body out,  driving your metabolism into the ground, 
forcing you into the dreaded "yo-yo" pattern, 
and causing long term health problems.  That's not how your metabolism works!
In the graphic below (fig 1) you'll see the two means in which your body makes energy.
The 1st and most efficient way your body makes energy is through what's called
oxidative metabolism
. Your body uses glucose (sugar) within the cell, combines it with oxygen and so begins the process of glucose oxidation.  The result of this is energy production and carbon dioxide.  It is this process that allows us organisms to co-exist so well on this planet.  We inhale and utilize oxygen to create energy and exhale carbon dioxide which then plant life consumes and through the process of photosynthesis results in oxygen production.  It's a nice planetary balance we're able to maintain.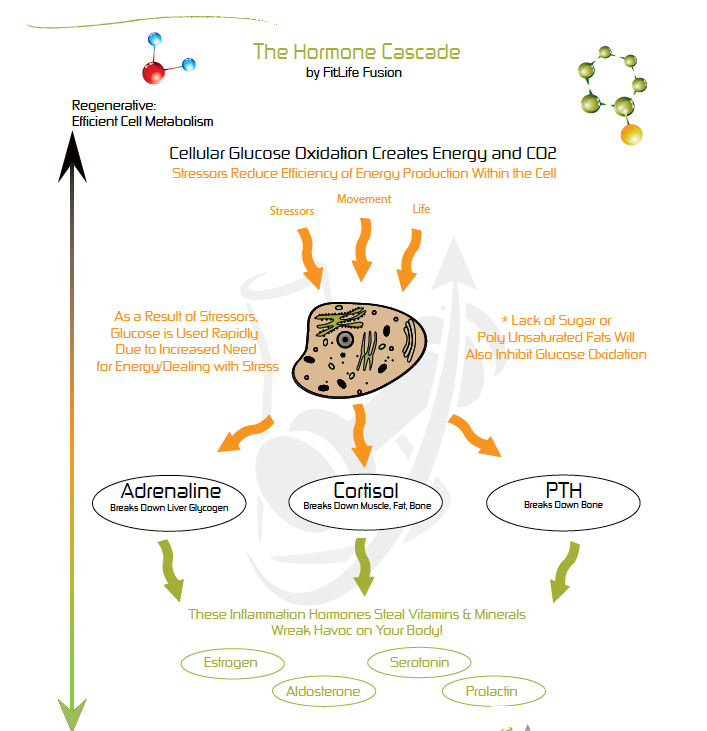 When your body experiences stress (which is described in greater detail in another article in this series) the requirement for energy production increases.  Your body will rapidly burn through glucose in your blood stream causing low blood sugar which the medical community refers to as hypoglycemia.  If your blood sugar gets too low you can pass out, go into shock, and possibly die.  Luckily for us we have a back-up system for this.  Your body can actually break down pieces of itself to create more of the nutrients our cells need to replenish sugars in your blood stream and continue making energy.  Most of us know this, yet we take for granted the reality of this degenerative process if we rely on it for long periods of time.
Let's talk about this degenerative, yet life saving process.  We call it "gluconeogenesis".  GLUCO = sugar,  NEO = new, GENESIS = creation.  There is a sea-saw like balancing act your body is able to maintain going back and forth between oxidative metabolism and gluconeogenisis.  The problem lies in how much stress we present to our body on a daily basis by eating the wrong types of foods, not eating enough food, eating foods in the wrong macronutrient (protein, fat, carb) ratio, or just not eating frequently enough throughout the day.  Instead of maintaining a happy balance in your energy production your body has to hormonally regulate your blood-sugar. Here's the process:
Your blood sugar begins to run low and you begin to make the following hormones:
1. Adrenaline – this hormone references your liver for glycogen (back-up sugars).
2. Cortisol – breaks down tissue in your body like muscle and fat to bring them to the liver which acts like a magic machine turning them into sugar.
The following hormones, just to mention a few, are designed to inflame and steal nutrients like vitamins and minerals to keep the energy process going:

Estrogen
Aldosterone
Serotonin
Prolactin
3.  Parathyroid Hormone – breaks down bone in order to get calcium out of them.  Calcium is also an important piece in cellular metabolism.
Now call me a liar, BUT… if you look up "effects of prolonged, excess (fill in the blank here with any of the above mentioned hormones)" you won't find many positive symptoms.  
So here's the moral of the story. 
The rapid fat loss tips people are being fed by these self proclaimed fitness gurus are forcing you into hypoglycemia resulting in the secretion of a boat load of hormones which break your body down.  You'll lose weight alright, but at what cost?
Think about it.  Just about any method a person uses to lose weight fast is just a series of different ways to make you drop in blood sugar so their body has to compensate by eating itself.  Drinking ice cold water first thing in the morning before you eat breakfast for instance adds stress on your body by making it work hard to warm up the water in your stomach before you can utilize it.  Then take into consideration that you haven't eaten anything for the last 6 to 8 hours and you have a situation where you have an increased need for energy production (draw blood to your stomach to warm the water) and a decrease intake of fuel (sugar from foods).  Fasted exercise in the morning achieves the same thing.  Eating low carb achieves the same thing.  Eating a diet high in polyunsaturated fat achieves the same thing.  And people do practice such habits to months and even years in belief that they support a healthy lifestyle.  Over time it stresses your metabolism out so greatly that your body's response to all the stress is to slow down the speed at which is operates.  This is what we call hypothyroidism, or low metabolism. 
How do you know if this has happened to you?  Well here are a few of the symptoms of a low metabolism:
Low body temperature (lower than 97.9 F in the morning and below 98.6 mid-day)
Low pulse rate (below 75)
Feel cold often.  Cold hands, fee, or nose.
Low or dragging energy.  Energy highs and lows.  Mid-day energy crash. Tired, but wired at night.
Chronic thirst

Urinating often (if you're peeing more that 4 or 5 times per day, it's a problem, especially if you're waking up to pee in the middle of the night)

Constipation, bloating, gas, diarrhea (1-3 bowel movements per day is healthy)
Sleep is restless, interrupted, feel exhausted when you wake up
Low libido, lack sex drive
Overwhelming PMS symptoms
Infertility
Get sick often (suppressed immune system)
Never get sick (overactive immune system)
Skin problems like eczema, psoriasis, rashes,Hair thinning, 

falling out, b

rittle nails, slow growing
Anxiety, depression, irritable, sad
Gain weight easily

Edema, swelling, inflammation issues

Difficulty losing weight even with diet and exercise
I don't know about you, but knowing this makes me mad.  I mean really MAD!  To think that you may have paid someone to teach you how to slowly murder your metabolism… it's infuriating!  
You'll only be able to keep this stuff up for so long.  We all know that when we are young our youthful metabolism is very resilient.  What we don't realize is that our resiliency begins to crap out on us around 25 years old or so; especially if we're stressing our bodies out from an early age with bad foods, overtraining, lack of sleep, and so on.  
The signs of a healthy and high metabolic rate are:
Feel warm all day (not hot)
Pulse rate between 75-90 bpm
Good energy consistently throughout your day
Restful, interrupted Seep
Healthy skin, strong nails, shiny hair
Healthy sex drive, no PMS, fertile
Regular bowel movements
Urinating 4 or 5 times per day, not at night
Maintain weight with exercising and dieting like crazy
Feel calm, happy, relaxed, focused
The healthiest way of thinking about metabolism is by asking yourself, "Am I giving my body the right amount of materials, specific to me, that it needs to go through the many processes of metabolism?"  If you're not, you're likely on a path of illness, a laundry list medications, and pain problems for the majority of the second half of your life.
Keep this stuff in mind in the following articles.  This is the platform from which we'll be discussing everything nutritionally.  Whenever we talk about food types, ratios of macronutrients (protein,fat,sugar) or frequency of meals look at it from a perspective of whether or not you're giving your body the materials it needs to function optimally.  Optimal function may not mean rapid fat loss in the beginning for most people due to the years of damage done to their metabolism so don't look at it from a weight loss perspective at first.  Depending on the state of your metabolism you may need to do some repair work, but think about it for a second.  What if your were able to have and maintain a youthful, protective metabolism through most of your life?  In a sense just by using food, sleep, and the right amount of exercise you become more effective than your physician at keeping yourself healthy, happy and mobile.    
Main points to take away:
2 Methods of Energy Production:

Oxidative Metabolism = efficient/regenerative
Glycolysis & Gluconeogenesis = very inefficient/degenerative

In the efficient means of making energy your body maintains level blood sugar throughout the day avoiding the overproduction of degenerative (but lifesaving) hormones.

Rapid fat loss methods used by trainers far and wide are really just ways of forcing your body into hypoglycemia resulting in loss of tissue to include fat, muscle and even bone density.  THIS IS NOT HEALTHY WEIGHT LOSS!

Figure out whether or not you need to repair your metabolism before setting out to lose weight.