This month's Member of the Month is… Brandon Wallace!
There's never a dull moment in a class with Brandon.  He's always smiling, always got something witty to say and completely determined to make fitness and health a high priority in life.
He's one of the hardest working members at FitLife and there's no question Brandon gives it everything he's got.  He leaves it all on the floor and leaves nothing in reserves.  Brandon has been with us over a year, has lost well over 15 pounds of fat and has gained some serious muscle.    It's also been said that you can tell his level of intensity by the color of his headband on any given day. 😉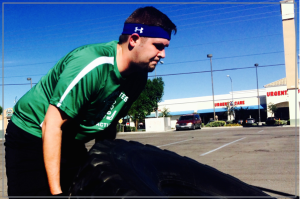 One of the things we love about Brandon is he competitive nature.  There is no challenge put in front of him at the gym that he doesn't meet head on with every thing he's got and the trainers watch as it inspires the rest of group to kick it up a notch.
Brandon, you're a true leader!  And that's why YOU are this month's Member of the Month!