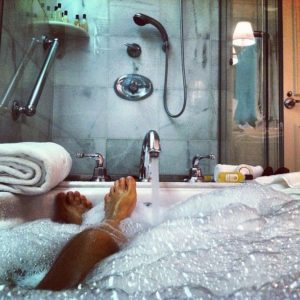 Its close to 10:30 on a Sunday morning and I'm still laying in bed. Totally comfy buried under the covers. House is quiet and just the perfect temperature where it's slightly chilly but not freezing. I finally persuade myself to get out of bed and I make myself a bath. (Insert deep long sigh)… Totally relaxed. Its at this point it hit's me…
"Why has it taken me this long in life to say NO and leave the weekends for me?!"
Can you relate?
I was in the habit of filling my schedule up with work, meetings, lunches and coffee dates with friends, which meant wasting time in traffic. Spending way too much time on social media, Netflix, driving my daughter to and from her Dad's house, and then focusing on whatever hobby I chose to learn for that week. Not only did I create this vortex of chaos during the week, I let it trickle into my weekend as well. I was never content with just sitting at home and giving my brain and body the much needed rest it deserved. I would start Monday feeling just as tired as I did on Friday. I never took the time to organize my time, establish what my priorities were, I was hardly moving with purpose or focus. I was stressed, frustrated, and impatient most of the time. I felt stagnant in my work, missed deadlines, and didn't have clarity in what I wanted for me and my daughter's future. Not to mention my health was taking a beating in the process.  Can you relate?
"Just say NO."
Unfortunately, I'm someone that needs to learn the hard way. I had to get to the point what I view as unhealthy and unhappy to finally be ok with changing my lifestyle. Excepting change is what I needed and more importantly, its what my daughter needed. Change has never come easy for me, I used to be an "all or nothing" type person. I felt I had to change the way I thought, felt, and believed all at once to be successful.
I WAS WRONG. 
I finally got wise and reached out for help. I got myself a mentor and really listened to what he said. What I mean by listened is that I heard what he said and then acted on it. My mentor helped me by putting a mirror in my face and helped me see reality. He showed me why I would start something and quit, why I was living in chaos and why my lifestyle was keeping me from being the example and leader I want to be for myself, my daughter, and for my clients. He gave me tools that I could use for when I would catch myself back in the same pattern. Most importantly, he taught me how to say NO.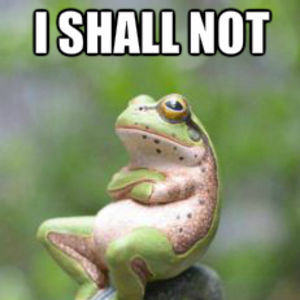 You're probably assuming that what I'm talking about is saying no to others. What I'm talking about is telling myself no.  I'm a very extraverted and social person. I love being around my friends, engaging in good conversation with plates of good food in front of me. I'm typically someone who doesn't prefer to stay at home. I like to be out meeting friends, hiking, playing with my horse, and being active. Let me be clear in saying there is nothing wrong with this type of lifestyle, but what I lacked was balance. I tried to mix work, pleasure, responsibilities, all in one day. I was not living realistically, what would happen is I would just focus on the pleasure part. I was having a hard time getting my responsibilities done, I lacked the experience of knowing what staying focused and accomplishing good quality work felt like.
When I would get the urge to start filling up my day with just fun, i'd have to stop and ask myself a few questions.
Should the activity I want to do take priority over the things I need to get done at work or home?
Will this decision help me be the best version of myself?   
Creating the habit of stopping and asking questions and thinking of the good and bad consequences of my decisions led me to start saying no to things I should.  I started saying no to going out as much, putting the phone down, I got rid of cable, I got better at not getting distracted.
In time my house became more organized, work and my clients were becoming more productive, I had more time for prepping my meals for the week. My health started to improve as well as my daughter's. I was getting more and more clarity in who I wanted to be and where that would take me. Most importantly, I was less stressed and happier.
How about you?
Is saying NO difficult for you?
Are you always stressed?
Do you feel like you go to one stinking event to the other?
How is your relationship with your family?
Are you proud of your home? Is it clean and organized?
How is your sleep?
Is your health where you want it?
Do you have clearly set boundaries for you and others?
Are you happy?
Growth and happiness.
Its takes strength and maturity to say no and actually make the changes needed. It's not easy at first, so surround yourself with supportive people. Find people that have or live the life you want, reach out to them. It's worth it!
As a result of my growth, I can enjoy peaceful Sunday's in bed and a bath. I'm happier now and enjoy the journey of becoming healthier. Instead of focusing on who I will be hanging out with next and filling my schedule up with activities, I'm reading more, being productive with my time, and I live more in the moment.
I encourage you reader to ask yourself the questions above and not feel bad about telling you or others no, maybe give your child a new experience by getting rid of cable and for him or her to learn how to play puzzles, read, use their imagination. To set up days where the family cleans the house together and then afterward goes on a hike.
Get out of the vortex of chaos and enjoy lazy Sunday's again!