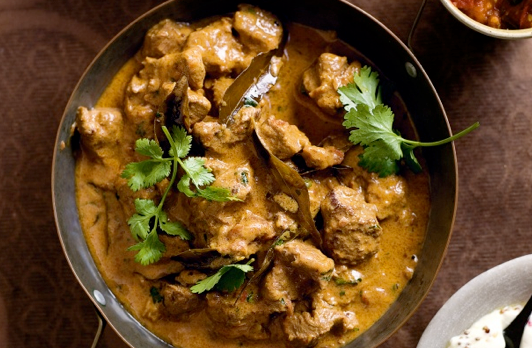 Thanks to our good friend and Master Chef, Anthony Ciampa, we have this delicious stew, jam packed with flavor. This one is a little more complicated, but get ready to invite some friends over for dinner because this one is definitely one to show off with!
Curried Coconut Lamb & Potato Stew
2 T Ghee (clarified butter)
1 lb. lamb stew meat, cut into 1inch pieces
2 onions, sliced
thin
1 T fresh ginger, grated with a micro plane
1 jalapeno, seeded & sliced
thin (leave seeds for more heat)
3 cloves garlic, grated with a micro plane
6 bay leaves
4 green cardamom pods
1 tsp. ground fennel
1 ½ tsp. brown mustard seeds
1 tsp. cumin
1 tsp. red chili powder
1 tsp. ground coriander
½ tsp. turmeric
1 small (15oz) can fire-roasted diced tomatoes
1 small (15oz) can coconut milk
1-cup Yukon gold potatoes
(peeled & cut into 1inch pieces)
2 tsp. kosher salt
1 tsp. garam masala
1 T rice wine vinegar
2 T cilantro leaves (chop at the last minute and fold into the stew at the end)
Heat a large pot over medium heat. Add the ghee, and when the ghee is hot, gently drop about half of the lamb pieces into the pot in one layer and brown on each side. Once browned, remove lamb and set aside. Add the rest of the lamb to the pot and brown in the same way; remove and set aside
Turn the burner down just a bit, and add the onions to the pot. The onions will release moisture; stirring frequently will pull up the drippings from the bottom of the pot, coating the onions. Slowly cook the onions, allowing them to caramelize – this will take awhile – 10-15 minutes, the time will be worth it.
When the onions are caramelized, add the ginger, garlic and jalapeno to the pot and stir for a couple of minutes (be careful here, if you've left the seeds in the jalapenos; the aroma can cause some coughing when inhaled). Next add the cardamom, bay, fennel and mustard seeds and stir for another 2 minutes. Then add the rest of the spices; cumin, chili powder, ground coriander and turmeric. Stir for another minute until the aroma of the spices is released.
Add the can of tomatoes, and stir. Allow to cook for 3-4 minutes, stirring constantly, to prevent sticking. Then add the lamb back to the pot along with the potatoes, the salt and can of coconut milk. Stir it all together, and then turn the heat down to low and allow to simmer for 1 hour, uncovered. Stir the curry occasionally as it cooks. When the curry is thickened & the Lamb is tender, add the garam masala, rice wine vinegar, & cilantro right at the end.