Share the post "Training Your Eyes to Reduce Pain and more"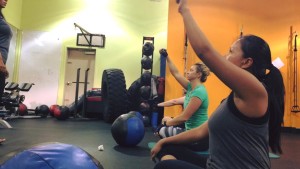 At FitLife Fusion we do a lot of things that most would consider… well, um… weird, I guess.  Some of the movement exercises we choose for our members are definitely out of the ordinary, but they have their purpose and they're usually just the thing a person needs to reduce pain, move better, get stronger, and feel better.   In this blog we're going to discuss the visual system, your eyes.  Training your eyes could be the missing link to all of your fitness goals.  We've seen people who are stuck in plateaus break those pesky plateaus with visual training.  So let's discuss the visual system, its role in your fitness goals, and a few ways you can train your eyes to break through your plateau.
First off, you have to have basic understanding of what pain is and how it comes to be in your body.  Pain is manifested in the brain.  It is not a physical things.  Although pain can occur in response to physical damage in your body, there doesn't need to be an injury for pain to exist and nag at you from time to time.  Pain is described as an "action signal" in the world of functional neurology.  It's your brain trying to get you to change your behavior because it doesn't feel safe about what your doing (or about to do).  If your brain doesn't feel safe with a specific movement it will do one of 3 things:
 It will shut strength off in attempt to keep you from moving in a "threatening" range of motion
It will create tension in attempt to limit degrees of freedom in any given joint.
And finally it will send pain signals to prevent you from moving in a way your brain thinks is dangerous.
The amount of neurological threat your body experiences at any given time depends on how well informed your brain is of where you are in the world around you.  You see, within your brain there is a 3D map of your body. It's being fed information from all of the sensory systems within your body, i.e. movement information, touch/feel, what your eyes see, etc. The more information your brain gets from all of the sensory systems within your body, the safer your brain feels about movement and the less pain, tension, and weakness you experience.
So what are these sensory systems?
You have 3 main sensory systems within your nervous system.  They're listed below in order of priority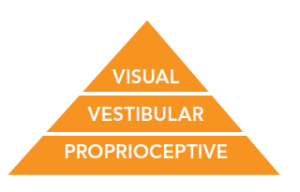 to the brain.
 

The Visual System

– Your eyes
The Vestibular System – AKA "The Inner Ear"

The Proprioceptive Map

– All the other information fed to your brain from the nerves that stretch throughout your body.
Your visual system is made up of a bit more than you'd normally think.  Your brain isn't just getting information from what your eyes see.  Your brain is also getting info based on eye position and eye muscle contractions.  Your eyes work in concert with the other sensory systems to keep you balance and to aid in movement.  For example, eye-muscle contractions are wired neurologically to prime specific muscles for movement.  When our eyes lock on a target our body reflexively begins to follow our eyes.  So, when you look up with your eyes your brain turns on extensor muscles to bring your head up and erect your spine.  When you look down your brain turns on flexor muscles to bend you forward.  While this is happening your vestibular system (inner ear) is telling your brain which way UP is and which way your going in order to adjust muscle tone so you don't fall over.  It's a pretty intricate process, but when communications are running smoothly so are your movement and balance.   When communication between systems isn't running smooth you deal with what we call "sensory mismatch".  This is no good.
When your eyes tell your brain your in one place, your vestibular says another and your peripheral nerves everywhere else in your body disagree with both of them this is what we call Sensory Mismatch.  If your experiencing this you will always incur some degree of weakness, tension, or pain… in fact usually all of them!  Sensory Mismatch can occur as a result of trauma, concussion, too much computer time, and times of extra stress, amongst other things.
What am I supposed to do if I'm dealing with Sensory Mismatch???
Great question.  We almost always start with the eyes after evaluating people who come to our facility.  The eyes are at the very top of the Neurological Hierarchy.  About 70+ percent of everything is affected by your eyes hence why the information your brain receives from them is so important.
Here are 3 exercises you can do to exercise your eyes.  Before performing any of them it would be a good idea and test a few different ranges of motion to use as measuring points for the drills your about to perform.  Check things like forward bend, shoulder flexion, neck rotation or flexion, and trunk rotation.  While trying out the drills listed below check in periodically and see if you are gaining or losing range of motion.  If your gaining some flexibility that's a good sign!  If you become stiffer, then that may not be a drill or position your body is ready for.  The eyes drills below are listed from easiest to hardest.
Exercise #1.  Gaze Stabilization
Gaze stabilization is exactly what it sounds like: the ability to keep the eyes still or fixed on a target.  Holding a target in your hand, like the tip or cap of a of marker or pen, hold the target for 10 seconds in each in the 8 directions of the compass.

Exercise #2:  Smooth Pursuit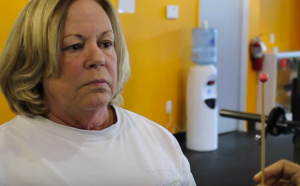 Smooth pursuit refers to your eye ability to smoothly track a target in motion without moving your head.  Again you'll start with a target in your hand centered in front of you.  Then move the target slowly in a straight line in each of the 8 directions of the compass.  Your objective is to smoothly pursue the target with both eyes keeping it in focus.  If you tend to lose focus or in a certain direction or if your eyes begin to tear up, take note of that direction as you'll probably need more practice with it.
Exercise #3:  Full Eye Circles
Move the target in a circle along the outer limit of your visual field.  Follow the target without moving your head.  Try doing about 5-10 circles in each direction, clockwise and counter clockwise.  This is the most difficult of the 3 drills.
***A couple things to be aware of…
Tearing up or getting slightly dizzy are up signs of fatigue.  Don't push yourself too hard with these eye drills.  If either of these occur while doing the drills, stop and rest a bit.  Start slow and just perform a few reps here and there.  Work to increase you stamina over time.  If you over do it you could end up nauseous or with a pretty bad head ache, so overtraining doesn't pay off in this instance.
So try it out and let me know how it goes!  People are blown away by how BIG of an impact eye exercises can have on their strength, flexibility, and pain levels.  And, of course, if you have any questions just reach out to me at Peter@fitlifefusion.com.
If you're in pain or dealing with nerve issues or neuropathy and you'd rather have a FitLife Professional evaluate you to don't hesitate to schedule a free consultation.  We'd be happy to help.  Learn more about our evaluation process here.
Keep moving!